Do not be in haste to seat yourself; one appears fully as well and talks better, standing for a few moments.
A man should always remain standing as long as there are any women standing in the room.
A man should never take any article from a woman's hands--book, cup, flower, etc.--and remain seated, she standing.
Do not take young children when making formal calls.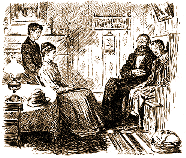 Do not take pets with you.
Do not meddle with, or stare at the articles in the room.
Do not toss over the cards in the card receiver.
Do not call across the length of the room if you wish to address any one. Cross the room and speak to him quietly.
Do not walk around the room, examining pictures, while waiting for the hostess.
Do not introduce politics, religion or other weighty topics for conversation when making calls.
Do no, if a gentleman, seat yourself upon the sofa beside the hostess, or in near proximity, unless invited to do so.
Do not scratch your head or use a toothpick, earspoon or comb.
Use a handkerchief when necessary, but without glancing at it afterwards. Also be as quiet and unobtrusive in the action as possible.
Do not tell long stories, argue, talk scandal or rumors and do not attack the religious beliefs of anyone present.
Do not enter a room without first knocking and receiving an invitation to come in.
Credits:
Background and buttons by webmaster and are digitally watermarked. They may not be used on another site. Image of visit from Clipart.com