Learn to govern yourself and to be gentle and patient.
Never speak or act in anger.
Remember that, valuable as is the gift of speech, silence is often more valuable.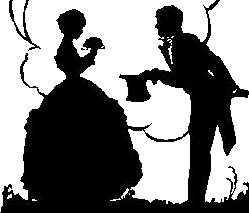 Learn to speak in a gentle tone of voice.
Learn to say kind and pleasant things when opportunity offers.
Do not neglect little things if they can affect the comfort of others.
Learn to deny yourself and prefer others.
Beware of meddlers and tale bearers.
Credits:
Background and buttons by webmaster and are digitally watermarked. They may not be used on another site. Silhouetted image of couple from artwork cd.