Courtesy requires the return of all civil greetings--those of servants included. Only the most serious causes can justify "a cut".
In bowing, the head should be best; a mere lowering of the eyelids, affected by some people, is rude; but etiquette does not permit a familiar nod, except between business men, or very intimate friends. In passing and repassing on a public promenade or drive, bows are exchanged only at the first meeting.
In carrying canes, umbrellas, and packages, care should be taken that they do not inconvenience others.
In meeting on a street crossing, gentlemen should make way for ladies, and younger persons for older ones.
Ladies and gentlemen, when meeting on the sidewalk, should always pass to the right.
In the evening or whenever safety may require, a gentleman should give a lady his arm.
A gentleman may take two ladies upon his arms, but under no circumstances should the lady take the arms of two gentlemen.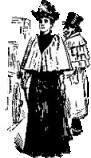 A gentleman will assist a lady over from an omnibus or carriage, without waiting for the formality of an introduction.
No gentleman will smoke when walking with or standing in the presence of a lady standing in the street.
No gentleman should stand on the street corners, steps of hotels, or other public places and make remarks about ladies passing by.
A true lady will go quietly and unobtrusively about her business when on the street, never seeking to attract the attention of the opposite sex, at the same time recognizing acquaintances with a courteous bow, and friends with pleasant words of greeting.
Credits:
Background and buttons by webmaster and are digitally watermarked. They may not be used on another site. "On the street" images from Humorous Victorian Spot Illustrations, Dover Publications.