You are probably wondering how we spend our days, so I have asked my family and our servants to tell you a little about what they do. I will begin first.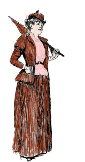 About 7:30 a.m., Martha brings up my tea tray and helps me dress. It is unacceptable to be seen in my dressing gown outside of my bedroom. I change my clothes three times a day keeping my maid quite busy.
I meet in the dining room with our entire family and staff at around 8:30 for prayers. I then have breakfast with my husband. After breakfast, I meet with Mrs. Dobbs, our cook, to discuss the day's menus. I then attend to maintaining the household accounts.
In the afternoon, I may choose to read, sew or call on friends. One of my favorite social activities is hosting a tea party.
Later, my husband and I dress and then go down to dinner alone. The children are fed in the nursery. We try to spend about an hour a day with the children in the drawing room.
My husband and I usually attend the theater or dinner parties at our friends at least once a month. We give our own dinner parties 2-3 times a year. We spend Christmas in the country at either my parent's or my husband's parents' estate.
Hello everyone, I'm Laurence. To tell you a little about my day, as my wife dresses, I shave, dress and read the daily paper. I then join her for breakfast before heading to my medical practice. I work at my profession six days a week.
I'm home in time for dinner with my wife. I also try to spend some time with our children every day.
My role in this family is to provide for and protect my wife and children. They are expected to do as I ask.
Credits:
Background and buttons are the creation of webmaster, B. Malheiro. These images are digitally watermarked and not for use on another site. Character images have been created using images obtained from Clipart.com.