One of my favorite of all social activities is going to, or hosting my own tea party. A few of my closest friends and I arrange to meet at each other's home once a month on a rotating basis for this most fun occasion. It is an opportunity for us to bring out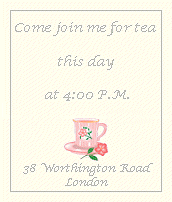 our most elegant china and silver and to engage in friendly conversation. When the weather is warm, we have our tea out in the garden. In the fall and winter months, we move the monthly celebration into the parlor.
I would like to take this opportunity to invite you to join me for tea. As you sip the delicate brew, I'll tell you a little about how "teatime" originated as well as give you some tips on hosting your own Victorian tea party.
The table has been set up buffet style, so please do help yourself. You can choose from two types of tea and a variety of light sandwiches and fruits. Now then . . .
Credits:
Background, buttons, and invitation by webmaster, B. Malheiro. Site authored by webmaster.