1876 Victorian England Revisited
Honorary Victorian Award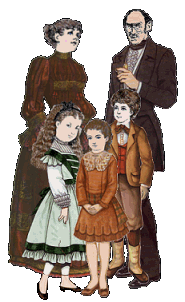 My family and I want to thank you for visiting us and hope you enjoyed learning about the Victorian period.
Upon your return home, we'd like you to take back a remembrance of your visit to 1876 Victorian England. In recognition of your completion of your studies here, we hereby proclaim you an "Honorary Victorian". To receive your award, just click on the link below. Fill your name* in at the prompt and click OK to receive your certificate - our thank you to you. Print on fine paper, cut where indicated and frame if desired. Please note that it may not work in all browsers.
Click here to obtain your certificate.
*The name is captured by a "cookie" which is required to insert your name on the certificate. Upon clicking OK, the cookie is destroyed - no information remains on record on the server. For more details regarding this site's privacy policy, please click on the link "Copyright" below.
Credits:
Background set and buttons are the creation of webmaster, B. Malheiro. These images have been digitally watermarked and are not for use on another site.