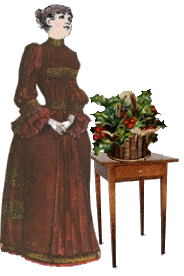 No tour of this era would be complete without this celebration of Christmas, so my family and I would like to invite you to share this special time with us. Here you will learn about our traditions, the way we decorate, the foods we eat and more.
I suppose it could be said that we Victorians "invented" Christmas, at least in the sense as it is celebrated in the 21st century. We Victorians are credited with --
having revived an old and jovial Viking winter figure and named him the "Spirit of Christmas" and later, "Father Christmas"
reviving the ancient pagan custom of bringing evergreens into our homes
creating the first Christmas card
having brought back caroling
turning a once riotous free-for-all into a family-oriented celebration.
Now if you will all follow me into the drawing room, my husband will provide you with a look at our holiday traditions and legends.
Credits:
Background, buttons, Elisabeth and invitation by webmaster and are digitally watermarked. They may not be used on another site.