Victorian Christmas Celebration - Traditions and Legends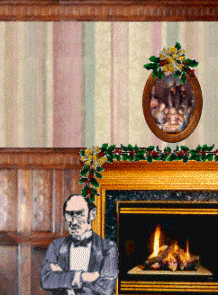 Well, it looks like it's my turn to give you a little insight into our celebration of Christmas. Emma will be arriving shortly with a tea tray. Please help yourself.
Now then, many of the traditions and customs pertaining to Christmas which are celebrated in England today originated in earlier times and other countries. Several of these are also being practiced in America and will shape the way that Christmas is celebrated there in the future.
The Advent Wreath
The Advent wreath is of Lutheran origin symbolizing joyous anticipation. It is an evergreen wreath to which four candles symbolizing faith, joy, love and peace, in holders have been securely attached. Beginning on the first Sunday of Advent, and the next 3 Sundays before Christmas, a candle is lit as a symbol of the light that will come into the world with Christ's birth.
Bells
The ringing of bells originated from the pagan mid-winter festivities. It was believed that the cold, sunless winters made evil spirits more powerful; and one way to drive them away was to make a lot of noise. The bells were good for this purpose as one could ring a bell while at the same time be able to sing or shout above it.
Boxing Day
"Boxing Day" originated right here in England. On December 26, all of the churches open their alms boxes and distribute the money in them to the poor so that they too can share in some Christmas cheer. The custom was later adapted by apprentices and assistants who go around to all their employer's customers asking for tips in return for their services.
Candles

The Christmas candle is another tradition which evolved from the pagan mid-winter festivities. It was believed that light was also a way to keep evil spirits away. Here in Victorian England, it is customary to place lighted candles in our windows during the 12 days of Christmas as a sign to weary travelers that food and shelter can be found within. Candles are also given by tradesmen to their loyal customers as gifts.
Christmas Cards
The sending of Christmas cards began here in England. John C. Horsley is credited with this; however, it was actually at the suggestion of his friend, Sir Henry Cole in 1843, that the first Christmas card was created and published. 1000 cards were printed and sold for one shilling each. This initial venture failed. It wasn't again until this decade that less expensive cards can now be printed and the sending of cards to friends is beginning to gain in popularity.
Christmas Crackers
Inspired by the snap of sparks and cracks coming from the flames in his hearth, a London confectioner by the name of Tom Smith designed a "tube-shaped" object and filled it with sweets and toys and tied it at both ends. To open it, you pull on both ends which breaks the cylinder and creates a "popping" sound. A "Christmas cracker" as it is called is most often found at each place setting on the Christmas dinner table and usually contains a party hat and a toy or a sweet treat.
Credits:
Background, buttons and parlor scene are the creation of webmaster, B. Malheiro.
The other images used came from Art Explosion clipart CDs which I purchased and from Pictures Now.
Content was written by and comes from webmaster's original Christmas site, titled "A Time Travel Christmas" (c1999).