Victorian Holiday Decorating
Holiday decorating actually begins weeks before Christmas, but we see to it that all the decorations are taken down before the 12th night as it is considered unlucky to keep them up longer.
Now if you will all take a couple of the decorations the staff has placed out, you can help us decorate.
It has been a custom in our family to decorate the front door with a wreath and to trim the posts and railings in garland. We then place candles in all our road "visible" windows that when lit are a sign to weary travelers that they can find food and shelter here from the cold English winters.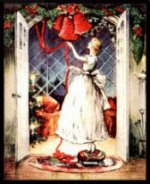 Many Victorians did not and still cannot afford to spend money on decorating their homes and instead make their decorations, primarily out of greenery adorned with berries, pods, ornaments, ribbons and dried flowers. The type of greenery used is generally determined by geographic location, though holly and various types of pine and arborvitae are available pretty much anywhere. Actually, bringing evergreens into the home derived from an ancient pagan custom. It was believed that evergreens, in addition to symbolizing the renewal of life, also brought good luck. The Norsemen believed that evergreen boughs over doorways warded off evil spirits.

Please step next into the foyer. You'll see that our staff has placed a variety of greenery, plants and other decorative pieces. You can help us decorate the staircase railing with garland trimmed with French horns, ribbons and candles. On the wall side of the steps, we'll put potted poinsettia plants on every other step. Also, all of the picture frames should be draped in greens and adorned with pine cones and red ribbon. On all the small tables will go small vases filled with bunches of holly.
The Christmas tree, as mentioned earlier, was introduced into England by German Prince Albert, husband of Queen Victoria in 1841. It soon became quite fashionable here to set up a large tree and decorate it with lighted candles, candy and cakes. Before commercial decorations it was common to trim the tree with home-made paper cornucopias filled with sweets, fruit, nuts and popcorn as well as simplistic cookies, paper angels and Dresdens.
Dresdens are ornaments which looked like metal but were actually cardboard painted in silver, gold and copper. They were usually done in the shapes of animals and trains. We'll be making some Christmas ornaments later.
German-made wax ornaments were also popular and came in the form of angels, children, animals and fruit. They were decorated with cardboard, plaster, spun glass, cloth and ribbon. Then came the German blown-glass balls which we use today in addition to the traditional trimmings.
Credits:
Background and buttons are the creation of webmaster, B. Malheiro. These images have been digitally watermarked and are not for use on another site. Christmas tree source unknown, location lost as result of a hard-drive crash. The other images used came from Art Explosion clipart cd's which I purchased and from Pictures Now. Content was written by and comes from webmaster's original Christmas site, titled "A Time Travel Christmas" and revised slightly to fit site's theme.