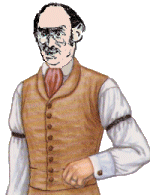 Hello again. I hope you're enjoying your stay with us. Please excuse my informality; I just thought I'd get out of my jacket for a while, something which is not done under the rules of etiquette.
The next item I'd like to introduce to you is the way in which we spend our leisure hours. If you were to judge us from our pictures, you would think that we were a dour group of people; but we Victorians are not without our fun-loving side. Young and old enjoy playing games and many enjoy outdoor sports such as bicycling, skiing, skating, badminton, croquet and golf. The children are especially fond of marbles and hoops.
When we can't enjoy the outdoors, we spend our time playing board games--checkers, chess and backgammon or "tables" as we call it. And of course, there are the parlor games which we enjoy year-round--Charades and Blind Man's Bluff and those that we play mostly around the Christmas holiday.
I'm going to talk to you briefly about the growth of leisure in England and then my wife will tell you a little something about the activities our family enjoys. We will then, as time permits, add various segments which describe these activities in greater detail.
Credits:
Background set and buttons are the creation of webmaster, B. Malheiro. These images have been digitally watermarked and are not for use on another site.