Croquet was believed first played in thirteenth century France by peasants using wide mallets to whack wooden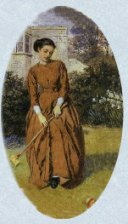 balls through hoops made of willow branches.
The game was introduced in England in the early 1850's. It was considered a suitable sport for a woman as it required skill, but not much strength. When John Jaques, a sporting equipment manufacturer began selling "croquet sets", the sport flourished and soon became one of the primary social/recreational activities of the British leisure class.
By the year 1870, croquet had spread throughout all of the British colonies. A patented version of the game arose in 1873 out of a nobleman's mood one dreary day in Wales. The premise was a game played outdoors by both sexes. Standardized rules were not set forth until the All England Croquet Club decided to experiment with the first organized tournament.
During the next several summers, rules of play were established with the first test at Wimbleton.
Credits:
Background set and buttons are the creation of webmaster, B. Malheiro. These images have been digitally watermarked and are not for use on another site. Woman playing croquet from Broderbund Clickart 250,000.