Vehicles resembling the bicycle were found in ancient Egypt and the ruins of Pompeii. An English church built in the 17th century shows a "two-wheel" vehicle in one of its stained glass windows. A Frenchman in 1690 was also credited as having created a two-wheeled vehicle propelled by the feet of its rider.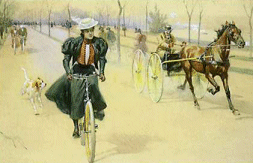 However, bicycling met its full development during the Victorian era. It was in 1816, Baron Karl von Drais, called the "father of the bicycle", invented the "draisine". The Baron introduced his invention to England and it soon became an "item to have".
In 1865, a Frenchman, Lallament, created a two-wheeled vehicle made of wood with pedals applied directly to the front wheel. It was later constructed with iron tires because it was ridden on cobblestone roads. And by 1870, the "high" front wheel versions began to appear and were ridden by both men and women.
Credits:
Background set and buttons are the creation of webmaster, B. Malheiro. These images have been digitally watermarked and are not for use on another site. Lady bicycling image from Broderbund Clickart 250,000.