The Ashton Family Gallery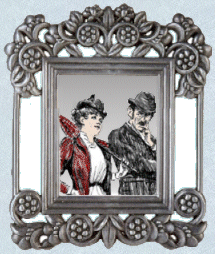 Dr. Laurence Ashton is 39 and the head of the Ashton household. As a physician, he earns £2600 ($14,100 U.S.) annually. His schedule leaves him little time to spend with his children; yet he stays aware of their progress.
Mrs. Elisabeth Prescott Ashton is 32. It is Elisabeth's job to oversee the household staff and keep the household accounts. She is the mother of three, 1 boy and 2 girls. When not attending to the children or matters pertaining to her home, she spends her time shopping and visiting with friends, reading and doing embroidery.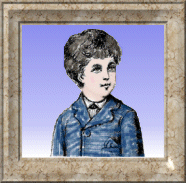 Their son, Richard Thomas is 11 years old. As most boys born into middle class families, he will soon be of age to attend a private school in preparation for this attendance at the university. Richard likes sports and horseback riding. He aspires to follow in his father's footsteps and intends to pursue studies in the field of medicine.
Sarah Louise, the second born is age 9. She currently attends the Chelsea School for Girls. Unlike her brother's, her education is not as extensive in subject matter. The Ashton's Governess fills in where her studies fall short. She hopes that someday she, too, will have the privilege of attending the university. Like her mother she like to do embroidery. She is also learning how to play the pianoforte.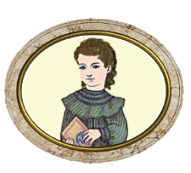 Amy Lynn is the youngest of the three at 7 years old. She also is a student at the Chelsea School for Girls. She is not especially fond of her lessons and wants to be a wife and a mother when she grows up.
Credits:
Background set and buttons are the creation of the webmaster, B. Malheiro. These images are digitally watermarked and are not for use on another site.
Gallery images created from clipart from Clipart.com and/or created by me.