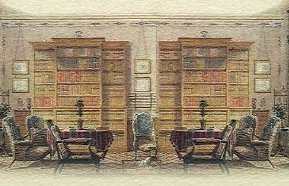 Now that we're all gathered together in the library, I thought you might enjoy listening to or reading some of our favorite Christmas tales.
During the winter holidays it is usually traditional that on Christmas eve or Christmas night we gather with friends and family and read Christmas stories in celebration of this very special holiday.
Below is a short review of some of our favorites.
The First Christmas: The tale of the birth of Christ, Luke 2:15 - 20.
A Christmas Carol by Charles Dickens: A miserly old-man with the help of four ghosts learns the true meaning of Christmas. (our favorite and most famous of all stories) It is interesting to note that this book sold out completely within 6 days of it's going on sale yet Mr. Dickens received only a small royalty.
The Gift of the Magi by O'Henry: A young couple with no money sacrifice their most precious possessions to have a gift for each other on Christmas.
The Little Match Girl by Hans Christian Anderson: Tale of a young orphan girl struggling to stay alive in a cold, wintery London by selling matches.
Credits:
Background and buttons are the creation of webmaster, B. Malheiro. These images have been digitally watermarked and are not for use on another site.
The library is courtesy of Symphony Graphics.