When you return home, you'll want a remembrance of your stay here in 1876 Victorian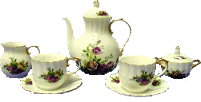 England. I can't think of a better way than to host your own Victorian tea party. It can be as simple or as elegant an affair as you choose to make it. And, should you wish to add to the fun and atmosphere, you can add "Victorian dress optional" to your invitations.
Below are a few ideas to get you started. If you need some help with your menu, please feel free to select something from my cook's recipe collection.
Timetable
Send out your invitations 10-14 days before your planned party date.
Plan your menu and prepare your shopping list one week in advance. At this time, wash and iron your tablecloth and napkins. To give your party a true Victorian flavor, use a lace tablecloth if possible.
Two days ahead, do your shopping and polish your silver.
On the morning of your party, make your tea sandwiches and any other menu items. Set your table, relax and have fun.
Tableware
For each guest, you will need a tea cup and saucer, dessert plate, silverware, napkin and placemat (a lace doily would be an elegant touch).
For your serving table, you will need a teapot (and coffee service--optional), sugar bowl, creamer, bowl for the lemon wedges, serving silverware, tablecloth, serving dishes for your foods and centerpiece.
Setup
Set up two tables--one with the tea and food, and the other for seating.
Place your tea service at one end of the table plus a milk pitcher, sugar bowl, and plate of lemon slices. Set a coffee service at the other end if desired.
Place your finger foods (cookies, scones, muffins and tea sandwiches) on platters in the center of the table along with plates, napkins and cutlery.
Serving is simple as it is a buffet and your guests can serve themselves.
Tea and other refreshments are replenished as required.
Credits:
Background and buttons by webmaster, B. Malheiro. Site authored by webmaster.
Teaset part of personal miniature collection.