I'm Richard, the eldest of the 3 Ashton children. Right now I'm still at home, however, I will reach the age of 12 in October and my parents have arranged for me to go to a boarding school.
It is important for me to have a proper education as it is expected that I will attend Oxford university and go on to a career. I think I'd like to be a doctor like my father.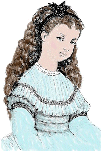 My name is Sarah and I'm the second oldest of the Ashton children. I spend most of my time with my younger sister, Amy and our Nurse, Ellen. Except for prayers and an hour of time spent with our parents in the evening, we are in Nurse Ellen's care.
I love my mother, but I also love Nurse Ellen. She helps us bathe and dress and she also tutors us. Our parents will not be sending us to the university as it is expected that we will marry and have our own children.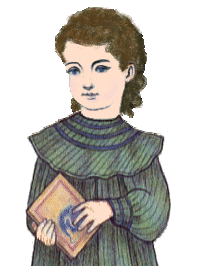 I'm Amy. I'm seven and I spend most of my time with my sister and Nurse Ellen. Nurse Ellen is so nice. She takes us on walks and let's us play all afternoon.
Nurse Ellen takes us downstairs to see mother at about 5:00PM. Then it's back upstairs for prayers and bed at 6:30PM. Nurse Ellen sleeps here in the nursery with us.
Credits:
Background set and buttons are the creation of webmaster, B. Malheiro. These images are digitally watermarked and not for use on another site. Character images were created from clipart from Clipart.com.