I'm the Ashton's cook, Abigale Dobbs and my realm is the kitchen and dining room. With the exception of menu planning which I do with Mrs. Ashton, I'm responsible for running the kitchen, food shopping and meal preparation. It is also my responsibility to see that the china and glassware is cleaned and the silver polished.
I have my own bedroom in the main house, but have to go outside and down to the basement area to gain access to the kitchen.
Not only do I cook for the Ashtons, but for the rest of the service staff as well. My job is somewhat easier because I only need to prepare one menu for all rather than a separate one for the staff which is more typical. Mrs. Ashton is very strict when it comes to her dinner parties. If I don't stand absolutely still (or worse, yawn) while they eat, I am called to see her first thing in the morning.
Time off is generally at the graciousness of one's employer. Mrs. Ashton, does permit us 2-hours off on Sundays to attend services, and one day per month. We are also allowed 1 week off annually but not around the year-end holiday period.
As in most Victorian households, the staff schedule is posted on the kitchen wall. You can find mine here.
I'm Martha Cooper and I share the household cleaning responsibilities with Emma. It is also my job to assist Mrs. Ashton with her changes of clothes. Fortunately for me, the Ashton's send their clothes out to a laundry.
My first task of the day is to clean the front door and steps. I then go to work in the parlor to remove the soot left by the coal fires, candles and oil-lamps. Then it's on to the rest of the house with Emma.
Hello, I'm Emma Parker. My job is to assist Martha in cleaning the Ashton residence. It's a lot of work . . . you can't believe all the carpeting that needs to be swept, furniture and accessories that need dusting, and beds to be made. The day is long and hard, but it is better to have work than not and Mr. and Mrs. Ashton although strict, are good employers. My schedule is similar to Martha's and can be found with her schedule here.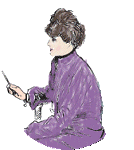 My name is Ellen Smith and I'm employed by the Ashtons as a Nurse for their children. I just love Richard, Sarah and Amy. I have full charge of them which means I help them bathe, dress, give them their meals. I also tutor and help them with their studies as required.
The children and I have put together a presentation on Victorian education for you. You can find it here or below.
Credits:
Background set and buttons are the creation of webmaster, B. Malheiro. These images are digitally watermarked and are not for use another site. Character images were created using images from Clipart.com.