Ladies will not permit their escorts to enter any apartment reserved for ladies only.
Ladies traveling alone should consult conductors or captains. Ladies will thank gentlemen who raise or lower windows, coldly but politely.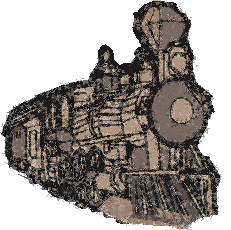 If a person crushes or crowds you, and apologizes, accept the apology with a cold bow.
Gentlemen escorts must pay the most delicate care to the lady or ladies under their care. The attention must be unremitting.
At a hotel, the escort must see to everything, rooms, etc.
Gentlemen will commence conversations.
Gentlemen will assist ladies to alight from the cars and or carriage.
A gentleman may offer to escort a lady to the refreshment saloon.
A gentlemen may offer his newspaper.
Credits:
Background and buttons by webmaster and are digitally watermarked. They may not be used on another site.