In visiting a store for the purpose of examining the goods or making purchases, conduct yourself with courtesy and amiability.
Never look over goods without any intention of buying them.
Speak to the clerks and employees of the store with courtesy and kindness. Do not order them to show you anything. Request them to do so in a polite manner. In leaving their counter, say pleasantly "Good morning" or "Good Day".
Never take a costly piece of goods -- nor any piece -- into a better light without first asking the clerk's permission to do so.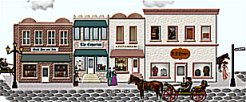 Should you find another person examining a piece of goods, do not take hold of it. Wait until it is laid down, and then make your examination.
To attempt to "beat down" the price of an article is rude. In the best conducted stores the price of the goods is "fixed", and the salesmen are not allowed to change it. If the price does not suit you, you are not obliged to buy, but can go elsewhere.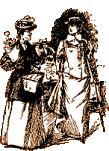 Pushing or crowding at a counter, or the indulgence in personal remarks, handling the goods in a careless manner, or so roughly as to injure them, lounging upon the counter, or talking in a loud voice, are marks of bad breeding.
Never let the door of a shop slam in the face of any person, nor permit a stranger to hold it open without any acknowledgement of courtesy.
Never express your opinion about an article another is purchasing, unless asked to do so.
You should never ask or expect a clerk waiting upon a customer to leave that person and attend to you. Wait patiently for your turn.
It is rude to make unfavorable comparisons between the goods you are examining, and those of another store.
Have your parcels sent and so avoid the fatigue of carrying them.
Credits:
Background and buttons by webmaster and are digitally watermarked. They may not be used on another site. Image of Victorian ladies shopping from Humorous Victorian Spot Illustrations, Dover Publications.