We Victorians are great letter writers. We write letters of apology, letters of congratulations, letters of introduction, letters of love and letters of business in addition to others. It is the social obligation of every Victorian lady to convey news and information through good letters. The better the skill of letter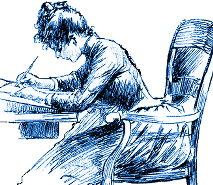 writing, the finer the breeding. One is judged on the quality of their letter by its elegance, the words they choose and penmanship.
Important to the art of letter writing is the selection of the proper stationery. Over the years acceptable stationery went from colored notepaper adorned with flowers, to a heavy, white or cream colored paper. In the mid-1800's monogrammed stationery was popular but was considered unfashionable by the end of the century.
Even the most polished of letter writers sought additional instruction on letter writing through letter writing manuals. One such book, The Lovers Letter Writer, provided answers to correct letter writing for every state of the relationship (acquaintance, business, courtship, marriage and friendship). It included 66 examples of every possible social need. Another popular guide, The Lover's Casket, brought out the romance in writing love letters for even the most faint-hearted suitor.
More on letter writing is described in the sections that follow.
Credits:
Background and buttons by webmaster and are digitally watermarked. They may not be used on another site.