Grooms are equally concerned with clothes on their wedding day and like brides, also turn to magazines for advice on how to dress for the big day.
In the early part of the era, the bridegroom wore a frock coat of blue, mulberry or claret and a flower in his lapel. By 1865, men's coats became tailored with a special "flower-hole". The waistcoat was white, and the trousers of doeskin. The color black was not an option. Now, frock coats are seldom worn, instead, the morning coat has become the preference because of its more fashionable appearance. A top hat was a necessity.
Attendants, Children and Family
The bridesmaids gowns had to be beautiful as well as practical, as the dress became a part of their wardrobe after the ceremony. Some brides of wealthy families have been known to provide their attendants gowns but this is rare. As with the bridal gown during the early part of the Victorian period, the bridesmaids gowns resembled the bride's with fitted bodices and full skirts. It was tradition that weddings be "all white" and in those instances where this tradition wanted to be kept, the bridesmaids also wore white dresses but with color accents. It also wasn't uncommon for the bridesmaids to wear short veils, but the preferred headpiece consisted of flowers and ribbons.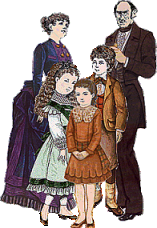 The bride or groom's younger brothers and sisters or cousins also play a part in the wedding. Little girls were flower girls or ring bearers while older girls were often given the honor of junior bridesmaids or maids of honor. Their dresses are made out of white muslin with ribbon sashes that matches their shoes and stockings. The length of the dress depends on what is fashionable at the time. Boys were given the task of holding the bride's train. They wear clothes simulating a court page (velvet jackets, short trousers and round linen collars fastened by large bows of white crepe de chine or surah). Their shoes are black unless it's a formal wedding and then they wear white hose and buckles on their shoes. The velvet suits can be black, blue, green or red with a matching hat, which is removed for a church ceremony.
Social customs also dictate what the mothers and female guests wear. For daytime weddings, guests wear walking or visiting costumes. The mothers of the bride and groom wear similar outfits, but slightly more elegant, but less formal than evening dress. All women wear bonnets in church, but this is optional for at-home ceremonies.
Credits:
Background, buttons, and characters by webmaster, B. Malheiro. Site authored by webmaster.