As a result of the law governing the time of weddings, the reception will be a breakfast. English custom is to have the ceremony at Noon with the breakfast at the bride's home one-half hour later where the couple receives their guests and accept congratulations.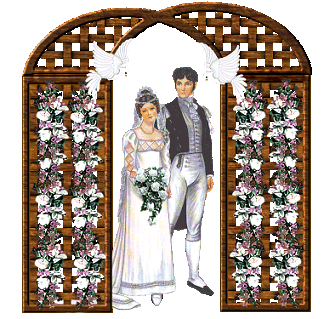 A corner of the room has been decorated as the location where the bride and groom will receive their guests. The parents will be the first to congratulate the couple. Earlier in the period, the newly weds were surrounded on both sides by the bridesmaids while the ushers escorted the guests to the couple. If the guests are only acquainted with the groom, they would be led to congratulate the groom and introduced to the bride. The bride is not congratulated as it is implied that the honor was in her marrying the groom. This practice however is changing.
As we've been given the gift of beautiful weather, the breakfast will be served outside at tables which were set up earlier this morning. Typically, the guests are served standing and only the bridal party served seated. There is no other entertainment as the honor is in being invited to attend the wedding itself.
There will be only one elaborately decorated wedding cake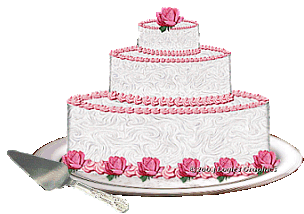 at Caroline's wedding which will be cut and boxed and given to the guests as they leave. It is a traditional dark, rich fruitcake with ornate frosting. During the early part of the era, there were usually three--one very elaborate cake and two smaller ones for the bride and groom. The two smaller cakes were not elaborately decorated. The groom's was "dark" and the bride's white. It was cut into the same number of pieces as their were attendants and often favors were baked inside for luck.
Each of the "favors" or charms had their own meaning:
The ring for marriage within a year;
The penny for wealth, my dear;
The thimble for an old maid or bachelor born;
The button for sweethearts all forlorn.
This tradition is dying away and the bride's cake is not eaten, but packed away for the 25th wedding anniversary.
Credits:
Background, buttons, bridal composite and wedding cake by webmaster, B. Malheiro. Site authored by webmaster.