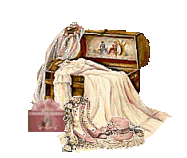 Now that the wedding date has been set, the bride can now begin planning her trousseau and wedding costume.
Brides have not always worn white. In the 16th and 17th centuries, girls in their teens wore pale green, a sign of fertility, and girls in their 20s, brown. Older women even wore black. From Saxon times to the 18th century, only very poor brides wore white, making a statement that they brought nothing with them to the marriage.
Also, based deep in superstition, it was believed that the color a bride selects for her gown influenced her future life:
White - chosen right
Blue - love will be true
Yellow - ashamed of her fellow
Red - wish herself dead
Black - wish herself back
Gray - travel far away
Pink - of you he'll always think
Green - ashamed to be seen
But since Queen Victoria's wedding, white has become the traditional color for wedding gowns and bouquets.
Earlier in the period, wedding dresses had a fitted bodice and waist with full skirt (hoops and petticoats). It was made out of organdy, tulle, gauze, silk, linen or cashmere with the veil consisting of a fine gauze, sheer cotton or lace. Since the 1870s, there has been an emergence of middle class wealth. Wedding gowns designed by Worth of Paris or incredible copies are the order of the day. Full court trains have become standard on gowns as have full-length veils, a bustle, and exquisitely detailed bodices.
The bride accessorized her bridal costume with diamond or pearl jewelry which was usually a gift from her future husband. The time of day of the wedding dictated the amount of jewelry worn, with morning weddings less jewelry displayed.
And as the traditional English rhyme goes Something old, something new, something borrowed, something blue and a lucky sixpence in your shoe. The something old is often a family heirloom with a link to the bride's past. The something new, her dress or a gift from her groom. Something borrowed is typically something of value, like a veil or headpiece which the bride returns to the owner. The something blue, a symbol of faithfulness, is either the garter or an embroidered handkerchief. And last but not least, the sixpence is supposed to ensure future wealth.
Brides are not the only ones spending extra time and attention in selecting their wedding attire as you will see on the next page.
Credits:
Background, buttons, and trousseau composite by webmaster, B. Malheiro. Site authored by webmaster.