By law, only morning ceremonies are permitted. (It won't be until the late 1880's that the laws are changed to extend the hours until 3:00 P.M.)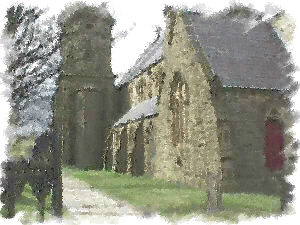 The ceremony can be performed either at home or in church with as many or as few guests as desired. Earlier in the period, they were almost always held in the bride's church. The clergyman as well as the parish clerk attend the celebration. After the ceremony, the couple sign their name in the parish register in the vestry; the bride signing her maiden name. Flowers are used to decorate the church and have become quite elaborate displays--from potted plants to festoons of evergreens and blossoms.
One of the ushers would remain to tend to the payment of the clergyman which could be as low as $5.00 to as high as $500, depending on the wealth and generosity of the family. The remaining ushers went to the bride's home for their favors. These favors are similar to boutonnieres consisting of white ribbon, flowers, lace and silver leaves which are pinned onto the ushers shoulders. Similar pieces were at one time also given to the guests.
A beautiful tradition for country brides is that the bride and her wedding party walk to church together on a carpet of blossoms believed to assure a happy path through life. For the wealthier couples, the bride and groom arrived at the church in a carriage pulled by a gray horse. The church bells are pealed as the couple enters the church signifying the start of the wedding and to chase evil forces away.
Edward will give his bride a plain gold band which he has had engraved with their initials

and the date of their wedding. She will not be giving her husband a ring; double-ring ceremonies is not a common practice of Victorians. Also should the ring happen to be "dropped" during the ceremony it is believed that all evil spirits were chased away.
When the ceremony is over the bride will walk out of the church looking neither left nor right, but rather straight ahead. The bride's parents leave first and the best man last after he pays the clergyman. Rice, grain or birdseed will be thrown after the departing couple as a symbol of fertility. There will be a wedding carriage waiting for the newlyweds which will be drawn by four white horses back to the bride's parents house for the reception.
Credits:
Background, buttons, church, and wedding band by webmaster, B. Malheiro. Site authored by webmaster.