Charlotte Bronte was born at Thornton, Yorkshire, the third child of six of the Reverend Patrick Bronte and Maria Branwell Bronte. The Reverend was later appointed as curate in the small village of Haworth on the Yorkshire Mores where Charlotte spent most of her life.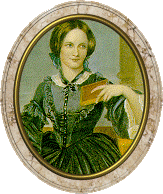 After her mother died, her father sent the five girls to school at Cowan Bridge. When a fever broke out at the school, the two older sisters succumbed to the disease. Charlotte, Emily and Anne wee then brought home and cared for by their Aunt Elizabeth.
The girls severely affected by the death of their sisters spent much of their time engaging in activities of fantasy and imagination. A set of toy soldiers which had been given to their brother, Patrick, provided the inspiration for the girls writing.
When Charlotte's father's health began to fail, he sent her away to Roehead School as he wanted her to be able to be independent. Mrs. Wooler, her teacher, helped Charlotte fill in the missing parts of her education. She earned several awards for outstanding scholarship and in 1832 declined a teaching position at Roehead.
Charlotte instead, returned home to instruct her sisters. In the mornings they would spend time on their studies and in the afternoon, they would draw and spend time on the moor. After dinner they would use the time to sew and have tea. Charlotte also used this time to write fantasies.
In 1835, she returned to Roehead School as a teacher for 3 years. After fighting bouts of nervousness, Charlotte resigned her position and went to work as a governess. In 1842 she went to Brussels with her sister, Emily to study languages at the Pensionat Heger. It was also during this time that, her brother, Patrick, failed as an artist and turned to drugs.
Charlotte wrote a series of poetry as well as four novels: The Professor, Jane Erye, Shirley and Villette. In 1848, devastated by the loss of her 3 remaining siblings, she became dependent upon famous editors and friends for support. In 1854 she married and in 1855 at the age of 39, she died from tuberculosis and pregnancy complications.
Charlotte Bronte Tales
The Professor
This was the first novel of Charlotte Bronte. It was rejected by publishers each time it was submitted despite her growing fame after the publication of Jane Eyre. It wasn't until two years after her death that it was finally published. The Professor is based on her experiences as a language student in Brussels. William Crimsworth, the hero, escapes from a humiliating clerkship in a Yorkshire mill to find work, as a teacher in Belgium, where he becomes involved in a flirtation with the headmistress of the school. This ends when he falls in love with a student-teacher. The jealousy of the jilted headmistress creates obstacles to happiness.
Jane Eyre
The story of a woman of passion and intelligence who refuses to be satisfied by her "place" in society, asserts her identity and aspirations with defiance and dignity. Orphaned she went to live with her Aunt Reed at Gateshead. Subject to the cruel regime at Lowood charity school, Jane Eyre emerges unbroken in spirit and integrity. How she takes up the post of governess at Thornfield Hall, meets and loves Mr. Rochester and discovers a problem to their lawful marriage.
Shirley
Set during the industrializing of England (1811-12), Shirley is the story of two contrasting heroines. One is the shy Caroline Helstone, who is trapped in the oppressive atmosphere of a Yorkshire rectory and whose bare life symbolizes the plight of single women in the nineteenth century. The other is the vivacious Shirley Keeldar, who inherits a local estate and whose wealth liberates her from convention.
Villette
"Lucy Snowe, determined to get away from an unhappy past, leaves England and finds work as a teacher in Madame Beck's school in 'Villette'. Strongly drawn to the schoolmaster Monsieur Paul Emanuel, Lucy is compelled by Madame Beck's jealous interference to assert her right to love and to be loved.
Credits:
Background and buttons by webmaster, B. Malheiro, and may not be used on another site.