Lewis Carroll is the pseudonym of Charles Lutwidge Dodson . Born on January 27, 1832, Mr. Carroll was educated at Rugby and Christ Church College, University of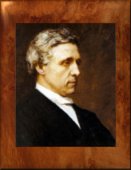 Oxford. He is the son of a clergyman and the firstborn of 11 children. He began at an early age to entertain himself and his family with magic tricks, marionette shows and poems written for homemade newspapers.
Although taking deacon's orders in 1861, Carroll was not ordained a priest, partly because of a speech impediment. His interests also included photography, especially photographing children.
He has written several mathematical papers and became known for his writing after the publication of Alice's Adventures in Wonderland in 1865. Other well-known tales include Through the Look-Glass and What Alice Found There (1871); Phantasmagoria and Other Poems (1869) and recently, The Hunting of the Snark (1876).
To read the summaries of some of his stories, click the button below. Please note that summary will open in a new window. To get back to this page, just click on the "x" in the top right hand corner.
The Carroll Novels
Alice's Adventures in Wonderland
Published in 1865 was inspired by Alice Liddell, the daughter of Henry George Liddell, the dean of Christ Church College. The story follows a white rabbit down from the riverside in a dream and his experiences with the Mad Hatter, the Queen of Hearts, the Mock Turtle, the Cheshire Cat and the March Hare and his tea parties.
Through the Looking Glass
The sequel to Alice's Adventures in Wonderland, published in 1872. It continues Alice's dream as she walks through a mirror into the Looking-Glass House where she meets Tweedledum and Tweedledee and the Walrus.
Credits:
Background and buttons created by webmaster, B. Malheiro, and are not for use on another site. Content researched and authored by webmaster. Note: Biographies are written/dated as they would have appeared in 1876.