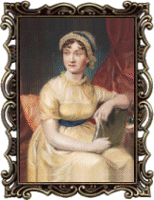 Jane Austen was a brilliant, witty English novelist. Her elegantly structured satires marked the transition from neo-classicism to 19th century romanticism.
Born in December 1775, she was the seventh of eight children of the Reverend George Austen and his wife, Cassandra. She received her education at home from her father. As a child, she and her older sister, Cassandra, used to write and perform plays and charades. Her father's extensive library provided plenty of material from which she was able to create her short satirical sketches. Other past-times included dancing and long walks in the country.
She wrote her first novel at the age of 14, titled "Love and Freindship" (sic) and then a short history of England. In her early twenties she write Sense and Sensibility, Pride and Prejudice and Northanger Abbey. She also began a novel titled "The Watsons" which was never completed.
After announcing that she would be moving to Bath, her father, mother and two daughters went with her. The next several years were difficult ones; the death of her father in 1805 put the family in a bad financial position, forcing them oftentimes to depend on the charity of the Austen sons.
In 1809, the Austen women moved back to the Hampshire countryside. In the next seven years, she revised "Sense and Sensability" and "Pride and Prejudice" and published them in 1811 and 1813. "Mansfield Park" was published in 1814, followed by "Emma" in 1816. She also completed "Persuasion" which was published together with "Northanger Abbey in 1818, a year after her death.
Jane contracted a tubercular disease of the kidneys and in the early hourse of July 18, 1817, passed on in her sister's arms. She was 41. She is buried in Winchester Cathedral.
The Austen Novels
Mansfield Park
Fanny Price, born into a poor family was sent to live at her wealthy uncle's house, Mansfield Park. Fanny resists the wooing of a stranger, Henry Crawford, whose intentions are not exactly honorable. Fanny's cousin, Edmund, becomes enamored with Mary Crawford, Henry's sister. Henry eventually falls in love with Fanny, who cannot take him seriously. The story takes place in the heart of London's upper society, casting its shadow on the peaceful Mansfield Park community and shattering everything Sir Thomas (Fanny's uncle) has persevered in building up--with fortune, and with consequence...a mention of slave trade as well.
Pride and Prejudice
Elizabeth Bennet is the perfect Austen heroine: intelligent, generous, sensible, incapable of jealousy or any other major sin. That makes her sound like an insufferable goody-goody, but the truth is when provoked is not above skewering her antagonist with a piece of her exceptionally sharp, but always polite wit. Austen's tale is spurred on by the arrival of the young and wealthy bachelor Charles Bingley and his friend Fitzwilliam Darcy. It is the story of the various affections, affectations and engagement shenanigans that develop due to Mrs Bennet's relentless matchmaking and the dashing Darcy's tempestuous relationship with Elizabeth Bennet. The book fixates on the critical question of whether or not Elizabeth and Mr. Darcy will get together.
Persuasion
Persuasion concerns the social issues of Austen's period, and particularly, the matter of class. The story begins with the letting of Sir Walter Elliot's seat, Kellynch Hall, to his annoyance as a man of egotistical and showy tendencies. Persuasion is the tale of the romance between his pretty and friendly younger daughter Anne who meets the novel's hero, Captain Wentworth and in spite of social barriers and the rival Musgrove sisters - Louisa and Henrietta - pursues his affection having once turned him down as a spouse. Accidents and various engagements ensue leading to what the reader hopes will be another finale of poetic justice and requited love.
Northanger Abbey
Decrepit castles, locked rooms, mysterious chests, cryptic notes, and tyrannical fathers set the scene for Northanger Abbey. Catherine Morland, the heroine, who no one had seen during her infancy, grows up to be a passably pretty girl and is invited to spend a few weeks in Bath with a family friend. While there she meets Henry Tilney and his sister Eleanor, who invite her to visit their family estate, Northanger Abbey. Catherine, a great reader of Gothic romances, allows her imagination to run wild, finding dreadful portents in the most wonderfully prosaic events. In this book, Austen not only mocks the silliness of these "horrid" novels, but attempts to expose the even more horrid workings of polite society, for nothing Catherine imagines could possibly rival the hypocrisy she experiences at the hands of her supposed friends.
Credits:
Background and buttons created by webmaster, B. Malheiro. Image may not be used on another site. Content researched and authored by webmaster. Jane Austen image from encyclopedia.com. Framed by this webmaster.