Nothing is more important to the young woman than "coming out", a process representing her change in status from that of a child to an adult and her introduction to Society. This typically takes place upon her reaching 18. Prior to that time, her only role is to attend school as participating in social functions is extremely limited.
If one's family has contacts or is related in some way to the Royal Family, "Presentation at Court*" is a prerequisite for "coming out" or to appear in Society. This group includes the wives and daughters of the members of the aristocracy, the country an town gentry, the wives and daughters of merchants, banks, and members of the Stock Exchange, those who know that birth, wealth, association and position earned them the privilege. Excluded from this group, however, are divorcees and married women who have lived with their husband or someone prior to their marriage. Once presented she can then participate in all the activities and festivities of the London Season. (*Will be abolished in 1958 by Queen Elizabeth".)
Although the actual presentation takes only a few moments, it takes weeks to prepare for this day: numerous fittings of the gown, selecting the right accessories (slippers, fan, feathers, jewelry), and learning to walk gracefully in the presence of the Queen. Hours are spent in practice learning how to glide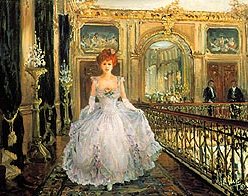 across the room in a dress with a train; the exit being very important as the young woman must "back out" of the room as it is not permitted to turn your back on royalty.
She must also learn to curtsy as it is not an ordinary curtsy, but a full court curtsy where she will have to bend her knee until it almost touches the floor and then rise again without losing her balance, falling or tripping over her gown and its train.
The rules of dress for "Presentation at Court" are quite rigid in nature. To be presented, one must wear a gown with a train and a tulle headdress with a veil that is long enough to float over the train. For the unmarried woman, white is the preferred color for the gown, although other soft colors are acceptable over a white background. Married women are allowed more color, but also tend to select the softer colors. In some cases, the dress is designed with two bodices, one which can be used for a wedding and the other for the "Presentation at Court". Court dresses are quite often short-sleeved with a low-cut neckline.
The headdress as stated above has to include a veil, as well as feathers. The number and size vary depending on the Monarchy, however Queen Victoria wants it to include 3 large feathers.
In order to be "Presented at Court", the girl must be accompanied by a "sponsor", an older woman of suitable rank and unimpeachable respectability who had also been presented previously, preferably her mother.
The actual Presentation ceremony begins around 2:00 to 3:00 pm, but the young women wait outside, sometimes for hours, in their carriages before being allowed to enter St. James Palace. They are led to the Gallery and again may have a wait before they are summoned. At that time, they are lined up according to title/rank for presentation to the Queen.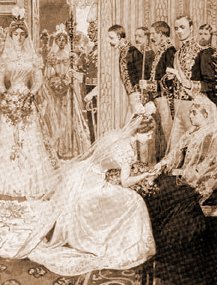 As she approaches the Queen's throne, she prays that her steps will be steady and that she will not embarrass herself by losing her balance or falling. She then performs the full court curtsy and kisses the Queen's hand, thinking about the power held by this remarkable woman. Once all curtsies made to the court attendees, she gracefully reaches for her train, places it over her arm and then backs out of the room. Liveried servants are strategically placed to help guide the debutante, but most seem to negotiate their exit with little misfortune.
The ceremony and transition is now complete and the young woman now has full membership into Society and the "marriage market". She can now attend court functions, balls and parties to which she was not previously included and can now seek a suitable husband in high society.
Background and buttons are the creation of webmaster, B. Malheiro. These images are digitally watermarked and not for use on another site. The other images are from cd's and various newsgroups.