Parties are abound during the season, parties of every shape and size, but all falling into one of two categories, those where people dance (dances and balls) and those where you don't (receptions or kettledrums).
Receptions or "drums" are parties typically hosted by the wives of ambassadors and politicians and those who wish to participate but to a lesser degree. They are less expensive and involve way less time attending to housekeeping. These can be attended by a few or many and the hostess can serve a sumptuous banquet supper or a table with hor doeurves and beverages. (Picture: "Evening Soiree" by Jean Beraud)
Invitations are extended in the order in which they appear in the "red book" (Burke's Peerage). At very large receptions or drums, you enter at one end of the room or hall and exit at the other thus friends can pass through the crowd without ever seeing each other as they make their way out. The purpose of going to a reception or drum is merely to say that you did and the one advantage of attending is that you'll meet people here that you won't meet at the gayer events.
Key is the status of the hostess; a reception given by a reigning "queen" of Society is one whose invitation is sought even if you attend only for a few minutes. To receive such an invitation is a feather in your "social cap".
These parties begin between 10:00 and 11:00 P.M.. The more intimate ones an hour earlier, the more distinguished at the later. If a guest of special importance is to attend, you'll find included on the invitation the words "to meet (name of person)".
Guests are expected to arrive between 30 and 90 minutes of the hour specified on the invitation. Tea and light refreshments are offered in rooms off the main hall throughout the evening, along with some kind of musical entertainment. If a supper is served, this would take place around midnight. Parties can run well into the early morning hours except those held on Saturday which end at midnight.
Dancing parties are also a popular form of entertainment during the London Season and the distinguishing factor as to whether the event is considered a dance or a ball is the number of people in attendance. A dance usually consists of between 80 and 200 guests, while a ball between 200 and 500.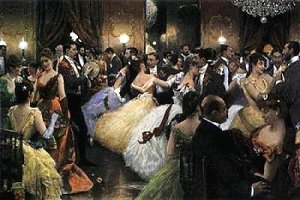 At the height of the season, there are three or four balls given each night. Certain balls, however, depending on who is hosting it, rank a higher distinction than others and it is not an uncommon practice to go from ball to ball to ball spending 20 minutes at each until reaching the highlight of the evening. (Picture: "The Ball" by Julius Stewart)
Etiquette at a ball is far more formalized than at a dance. Guests generally come to the ball after a dinner party. The hostess greets every one of her guests. The first dance is begun by the hostess or one of her daughters and the gentleman of the highest rank present. Food (small ckaes, biscuits, wafers and ices) and beverages (claret, champagne, cider, lemonade, sherry and coffee) are available in rooms off the main hall. The hostess may also choose to serve a supper buffet.
As you can realize, the expense, both of money and time and trouble is tremendous and the worth can only be decided on by the hostess and her daughters.
You can learn more about balls in the segment titled "Christmas" under "Holiday Fare".
Background and buttons are the creation of webmaster, B. Malheiro. These images are digitally watermarked and not for use on another site. The other images are from cd's and various newsgroups.