So where does the London Season take place? Outside of the sporting events -- i.e. Ascot, Goodwood, and the Henley Regatta -- the Season revolves in a very small area of the West End of London.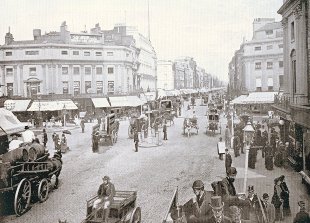 The majority of Society reside in Mayfair which consists of a maze of squares (Grosvenor, Berkeley, Belgrave) north to Piccadilly and south to St. James Street. Piccadilly is considered the main street of this "elite village" housing shops, clubs, and galleries among the residences. Its location is beyond Theatreland and numerous restaurants and Regent Street which attracts the ladies to the shops and stores during the day, and the men to other distractions in the evening when the ladies have gone home. (Picture: Regent at Oxford Street)
Shopping abounds here, right on one's doorstep in Mayfair or St James or on to Regent Street, Oxford and the Haymarket. Should you need to purchase or rent a carriage you may have to go to Long Acre, or you may choose to go to the Stand for a pair of field glasses to watch the races.
Another of the more fashionable residential areas is Belgravia located west of Green Park, not quite so select as Mayfair or St. James, but popular due to its proximity to Berkeley and Grosvenor Squares. And then, of course, you have the districts of Knightsbridge, Bayswater, and Marylebone. (Picture: Grosvenor Square)
This area is also noted for its parks -- Hyde Park, Green Park and St. Jame's Park. And while all are perfectly satisfactory for the occasional stroll, Hyde Park is the one chosen to be the scene of Society's most fashionable gatherings and get-togethers.
If you happen to live in this area, in most cases you can walk to almost any where you want to go if you aren't in any particular hurry. The parks, shops, clubs and friends are all in easy reach. You can go to lunch at a friend's home a hundred yards away, a dance next door, or the theatre or the opera a mile or so away. Life is better here because everyone you know or care to know live here and for three whole months you have the opportunity to see as much of each other as you want.
Background and buttons are the creation of webmaster, B. Malheiro. These images are digitally watermarked and not for use on another site. The other images are from cd's and various newsgroups.