The turning point in the Queen's life, and probably the most significant of all, was the sudden death of Prince Albert, age 42, on December 14th, 1861 from typhoid fever. Victoria went into a deep depression and stayed in seclusion for many years. Rarely was she seen in public thereafter and she spent the remaining 40 years of her life wearing black in mourning.
After the first year, her mourning was viewed by many as obsessive and the public became concerned about the Queen's mental state and its affect on the monarchy. The unease was exacerbated by her refusal to appear in public except on the rarest occasions. Her first appearance after Albert's death was on October 13, 1863 where she unveiled a statue of him at Aberdeen, Scotland. She would not be seen again in public until June 21, 1864. She also did not personally appear to open Parliament until the 1866 session and then reluctantly.
The Queen developed an unusual relationship with a Scottish servant, John Brown. He was a horse attendant, but in the mid-1860s, Victoria grew to look upon him not as a servant, but as a close friend. Their relationship was surprisingly casual and he was overhead calling her "woman" on at least one occasion. She cancelled an appearance at a military review in Hyde park because British officials would not let Mr. Brown stand by her side. Her children resented the closeness as they were denied visitation of her during an illness in 1870 and Mr. Brown was not. Much gossip arose from this and she was jokingly referred to by some as "Mrs. Brown" while others said he was acting as her spiritual medium, continually contacting Prince Albert from the beyond.
During the 1860s, politics were dominated by a push for a Second Reform Bill which would expand the voting population and reform parliament along more democratic lines. With the death of Lord Palmerston, Prime Minister at the time, and a moderating influence on liberal tendencies in the government, the liberal tendencies gained new force over British politics, and the Second Reform Bill was passed in 1867.
The Queen did manage to reform the British Army. By 1870, she abolished the Army's patronage system, which had allowed offices to be purchased and granted as gifts. The call for reform came about partially as the result of military inefficiencies discovered during the Crimean War. The Army Regulation Bill, which was designed to bring about reforms, was initially rejected by the House of Lords in 1879. Changes only came about by royal warrant from the Queen. She was reluctant to do so as it meant a reduction in the rank of her cousin, the Duke of Cambridge, who was Commander in Chief, but decided it was the right thing to do.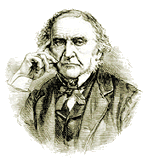 During Victoria's reign as Queen, the British Empire achieved its greatest size and power. The Queen added the title Empress of India to her crown in 1876. She strongly supported the concept of empire which often pitted her against Liberal William Gladstone who was the Prime Minister from 1869-1874, 1880-1885 and again from 1886-1894. She had a better relationship with her last prime minister, the Marquess of Salisbury who was also a strong supporter of empire and an opponent of Irish Home rule.
Queen Victoria celebrated not only her Golden Jubilee in 1887, but also her Diamond Jubilee in 1897. By this time the Queen had achieved great popularity in Britain and had come to be seen as the symbol of the British Empire. The last years of her reign were spent overseeing the Boer War in southern Africa (1899-1902).
After sixty-four years as Queen, Victoria died on January 22, 1901, at the age of eighty-one.
Credits:
Background and buttons are the creation of webmaster, B. Malheiro. These images have been watermarked and are not for use on another site. Site authored by webmaster.