To hear music and access some links and other graphical features created using javascript, IE users must allow blocked content. Thousands have visited this site safely for years, however, if you're not comfortable, there's plenty of other material to enjoy on the site.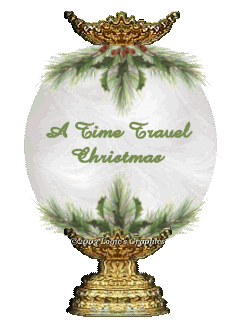 Christmas has always been a very special time of year for me. In fact, there isn't a day that goes by that I don't think about Christmas in some small way. Yes, I love it all -- from the family gatherings, the parties, and the decorating, to the season's movies, music, and shopping, although you will never find me at the mall in December.
As a fan of stories with a "time travel" theme, I first used this premise for my Christmas 1999 offering. This segment is now being updated for 2016. During this time you may see a change in menu styles from page to page; please rest assured, however, that it doesn't mean you've left the site unless I've advised your doing so.
As with previous years, you will find a host of Christmas holiday treats, including a holiday interactive Advent Calendar which opens on December 1st, a Holiday Forum and a chat with Santa (details to be announced in December).
My Christmas presentation is divided into two segments each with an "ambiance" of its own. With my love of web design, I spend close to a year's worth of time in updating these pages.
I have come to learn just how much time, effort and love go into these creations. In effect, what you will see here is a reflection of who I am and my love of Christmas. I am sure you will enjoy your visit. (Please note that should you like to visit the designers of some of the graphics used on my site, please visit the credits pages for each section.)
In "A Dickens Christmas" by the use of what I believe is a unique approach to the subject, I've tried to re-create the romance and charm associated with the celebration of Christmas in the Victorian age. Come journey with me back in time to Victorian London to celebrate Christmas as it was then.
In "Christmas Present", you will find tips on planning for the holidays as well as the features noted above. And parents, don't miss sharing "Santa's Corner" with your children. Christmas is a holiday for all ages.
I've tried to include something for everyone in this celebration of Christmas. A quick click on the buttons below and you're on your way. I hope they put a smile on your face and the spirit of the holiday season in your heart.
Over the years, A Time Travel Christmas has won several awards for its content. The Awards page opens in a new window. To get back to this page, just click on the "x" on the right hand corner.
(The above images, with the exception of the "Dickens" button were created by me for this site only. Should you wish to use some of my work, please visit "Christmas Graphics" which is located under "Christmas Present".)