Unfortunately, not all of London's citizens can afford to make purchases at London's finest shops and establishments. Hence, we will discuss briefly the shops where goods are available for sale a second time, and perhaps a third.
Pawnbroker
The first of these is the pawnbroker, whose goods have been held for a year and one-day and then placed in the window for sale. Each item comes with its own tale of woe and reflects something the owner has had to part with in order to survive.
Broker's Shop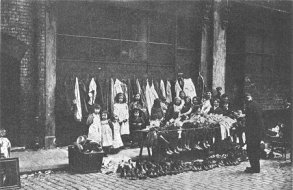 Another type of second-hand establishment is called a "broker's shop". A walk through Monmouth and St. Andrews Streets or any of the other poor London neighborhoods, you'll find these shops filled with an infinite assemblage of wares--some good, some shabby, some useful, some not--all put out for sale. Here you'll find a lot of second-hand clothing. You'll also find "cellar shops" the name being derived from the fact that cellars in homes are converted into shops where goods are purchased. In these types of shops you'll find mostly second-hand boots and shoes. Continue your walk down Wardour Street and you'll find old furniture and curiosity shops. I will caution you, however, to avoid Holywell and Field Lane as if parked along these streets, you might find yourself being dragged into one or more of these shops whether it be your desire or not.
| | | | |
| --- | --- | --- | --- |
| Ladies Wear | Ladies Accessories | Jewelry | Menswear |
| Girls Clothing | Boys Clothing | Toys | Housewares |
| Cooperatives | Second Hand Shops | Bazaars | |
Credits:
Background set and buttons are the creation of webmaster, B. Malheiro. These images have been digitally watermarked and are not for use on another site.