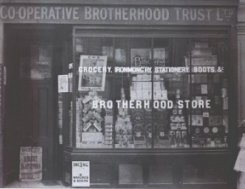 The cooperative store is one that is comprised of many different buying groups that make large purchases at greatly reduced prices. Patrons of this type of store buy "tickets" or "memberships" for a small annual fee, usually around 2s-5s, which entitles them to buy food and other items at a reduced price. Any profit that is made by these types of stores goes back into the store's operation or in some instances, the pockets of shareholders of the organization.
Some of these organizations do not have shareholders or ticketholders. The fact that they can purchase in great quantities with a fast turn-around enables them to sell their goods at just slightly above the wholesale price. Examples of these types of stores include the Civil Service Supply Association, London Cooperative Society, the Army and Navy Co-operative Society, the London and Westminster Supply Association, the Coal Co-operative Society and the Ladies' Dress Association.
| | | | |
| --- | --- | --- | --- |
| Ladies Wear | Ladies Accessories | Jewelry | Menswear |
| Girls Clothing | Boys Clothing | Toys | Housewares |
| Cooperatives | Second Hand Shops | Bazaars | |
Credits:
Background set by webmaster. Image of store from "The Cooperative Union".